11 Steps to Starting a Business in Dubai UAE
Long gone are the days when we used to hear that there is "0" or minimal ownership for starting a businessn in Dubai or perhaps no matter what you do, there are not many rights or favourable policies for foreign or expat entrepreneurs. If you have come here searching for the ten ways to start a business in Dubai, you are at the right place.
At Horizon Biz Consultancy, Dubai, expert Business Consultants Dubai itself since more than half a decade now, with 40+ years of collective business consulting and taxation experience, we can guide you using our first-hand experience.
Our company setup in UAE experts have have curated this short but realistic list for you to consider getting started on your Dream business project in Dubai:
Steps to Start a Business in Dubai
1. Determine the Type of Business Activity You Could Undertake
It is important to consider the profitability aspect of the Business Activity you undertake.
"What's a business activity?" you ask!
Simply put, decide whether you want to go for Manufacturing of Goods or a Service or distribution of those goods or services or perhaps move into operations or finance.
Once you are clear on the type of business activity you could carry out for a profit, the battle is half won.
2. Finalizing a Legal Form for Your Business
It saves many hassles when you have clarity on the Legal Form of your business. Do you plan on becoming a sole proprietor or will there be partners involved? Perhaps, you're looking for corporate ownership or even better – a mix of Corporate and Individual Ownership i.e. Subsidiary Company or Branch of a Foreign or a Local Company.
If you're considering company setup in Dubai with 100% ownership, an LLC model is the way to go.
There are several permutations and combinations depending on your unique needs and goals, and it is best to consult with an expert company setup in Dubai consultant such as those of Horizon Biz Consultancy.
3. Taking Approvals from External Authorities
So many external authorities and such little time! Depending on the Business Activities you decide to undertake and of course the setup (Mainland, Free Zone or Offshore) and the city, there are approvals we need.
Yes, for instance, there are several External Authorities i.e. Dubai Municipality, Dubai Ports, SIRA Approval, Approval from Fire and Safety department, Approval from Health authority, Approval of Food safety department etc – all these must be executed timely with documentation that's done right down to the tee.
4. Decide Where to Actually do Company Setup Dubai
There are several factors associated with making this decision and it is critical since this crucial decision determines your corporate hierarchy, taxation structure, type of trade licenses, IDs and registrations you will need. Most importantly, the compliance checks you might have to do.
Well, a new company setup in UAE can go for a variety of options. For instance, you could become a Free Zone entity and enjoy greater exemptions on all types of taxes, plus enjoy additional perks like office space, easier trade licensing and 100% business ownership, not to mention, hassle free Visas for you and your employees.
However, Free Zones are located further away and each free zone is dedicated to a specific industry and they may have their own compliance criteria which could be complex to navigate.
In the same way, becoming a Mainland entity or an Offshore business depending on your business activity, long term goals and short term needs.
There are many permutations and combinations and we highly recommend in our professional opinion to go through this step with an experienced company setup Dubai consultant.
At Horizon Biz Consultancy, Dubai, we are happy to assist you with a free 30 minutes consultation if you would like to know what's the most lucrative option for you. You can +971 50 104 2665
5. Attesting and Notarizing Company Documents
Well, at this stage after you have consolidated the list of documents you will need for starting business in Dubai, it is time to get them approved and notarized by government authorities.
Different legal forms need different documentation, for example, while executing the subsidiary company, branch company or corporate ownership, must be notarised for lawyer, attested from UAE embassy in home country and ministry of foreign affairs in UAE.
6. Securing a rent agreement for the business space
While registering a Mainland company, It is mandatory to have a rent agreement of business space ready even before registering the company.
In the case of a Free Zone, you need to identify the availability of office/ shop/ warehouse space and pre-book tit before executing the company registration.
Many Free Zones also have the availability of "Flexi" and "Fix Desk" options depending upon the need and nature of business or clients.
7. Registering a Worthy Company Name
This is easily the most exciting and yet the most daunting part of setting up a business in UAE.
Decide on a company name for your business and then speak to an experienced consultant on how to go about the incorporation in the way that suits your needs the best.
Again, you will need to deal with a lot of paperwork, meaning you will need the support of consulting expertise as well as a strong network to help you get through this stage sooner than later.
In addition, we need to gear up to draft Company Memorandum and Articles of Association.
Much paper with infinite detailing needs to be turned in as part of your application for company incorporation. After these few hectic weeks, you simply need to wait and watch.
8. Now comes the Company Licensing
Once your application is approved, it is time to first celebrate. Yes, and then we are off to work getting Company Trade License, signed MOU, Lease agreements, Establishment card, stakeholder documents, passports and sometimes a business plan depending on the Free Zone you decide.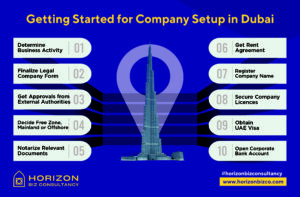 9. Get that Visa
Depending on where you decide to do company setup Dubai, Free Zone or Mainland, you can enjoy additional perks accordingly.
For instance, as a Founder of a Free Zone entity you can get Family Visa for dependents, Visa for Maid/Workers and of course for the office staff as well.
However, before we get there we need to procure an Emirates ID, more paperwork and more patience. But we have done that and it is not as daunting as it appears.
10. Time to Open that Bank Account Now
You're already here! There is some patience involved in getting to this stage.
After getting your company license you need to open your Corporate Bank Account. You must wait until the government returns your documents.
Experts at Horizon assist you every step of the way including selecting the right bank and setting up that corporate bank account with all the arduous paperwork involved. We take care of these hassles all through these four weeks or more it may take to setup your Corporate Bank Account UAE so you may keep running your business hassle-free.
11. Ensure you have compliance checks and protocols in place
After the recent series of economic reforms, the UAE government takes Tax Compliance seriously, and you must honour those regulations right from the start. A qualified business consultancy dubai like Horizon can help you achieve this.
Read Also
Company Setup in Abu Dhabi, UAE
Travel Company Setup in Dubai, UAE
IT Company Setup in Dubai UAE
LLC Company Formation In Dubai
Finally, start networking, get out there and do "Your" business and thrive running a setup at one of the world's most lucrative Hubs. Your company setup Dubai dream has now come true!
If you want to make your "starting a business in Dubai" dream come true, experts at Horizon Biz Consultancy can help you through it all. Get in touch with us for a free consultation today.