9 Tips to Finding the Best Tax Consultancy Firm in Dubai UAE
Navigating the complex world of taxation in Dubai can be challenging for businesses, particularly for those unfamiliar with the UAE's intricate tax regulations.
It's crucial to partner with a reliable tax consultancy firm that can guide you through the process and ensure your business remains compliant with all applicable tax laws. However, finding the right tax consultancy firm in Dubai can be a daunting task, given the multitude of options available.
In order to help you make an informed decision, at Horizon Biz Consultancy, we have put together a concise list of eight essential tips to consider when searching for the best tax consultancy firm in Dubai.
These tips will have you well on your way to selecting a firm that not only understands your business's unique needs but also has the expertise and experience to provide tailored, effective tax solutions.
So, let's dive in and explore the factors that will help you choose the perfect tax consultancy partner for your business in Dubai.
1.  Expertise and Experience
Choose a tax consultancy firm with extensive experience and a proven track record in Dubai's complex tax landscape. Their knowledge of local regulations and international tax laws ensures that your business remains compliant with all applicable tax requirements.
2.  Range of Services
Select a consultancy that offers a comprehensive range of tax services, from VAT registration and filing to corporate tax planning and compliance. This ensures that all your tax needs are met under one roof, simplifying the process and reducing the chances of errors or oversights.
3.  Client Testimonials and Reviews
Look for a firm with positive client testimonials and reviews. This indicates that the consultancy has a history of providing exceptional service and is well-regarded in the industry. Take the time to read reviews and speak with other businesses that have used their services.
4.  Customized Solutions
A top tax consultancy in Dubai should provide tailored solutions based on your business's unique needs and circumstances. This ensures that you receive the most effective tax strategies for your specific situation, maximizing tax efficiency and minimizing liabilities.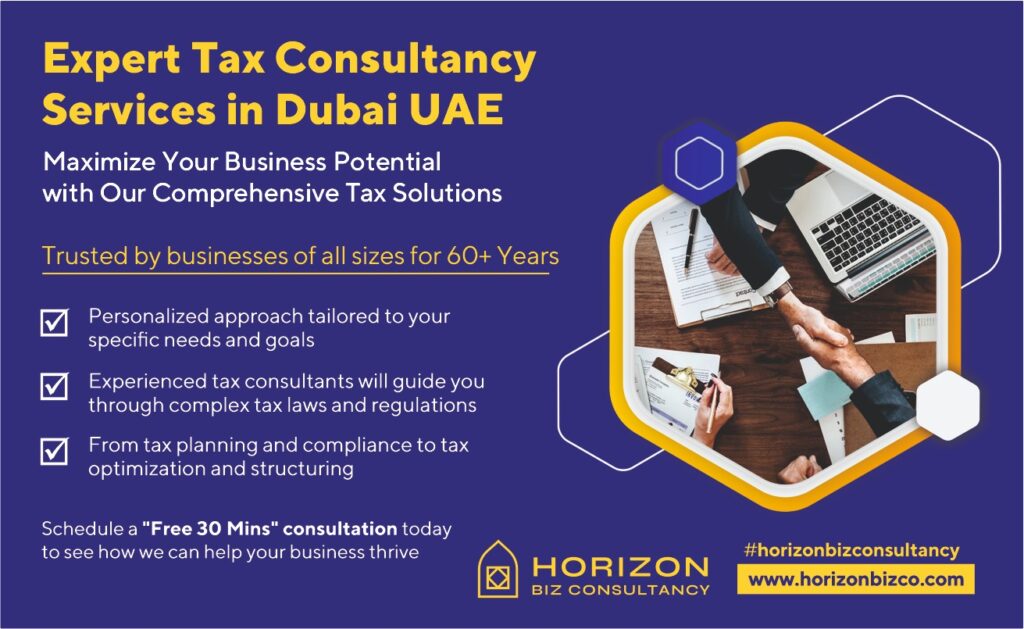 5.  Transparent Pricing
Choose a firm that offers transparent and competitive pricing for their services. They should provide clear cost breakdowns, so you understand exactly what you're paying for and can budget accordingly.
6.  Strong Communication Skills
Effective communication is crucial when dealing with complex tax matters. The best tax consultancy firms in Dubai will have excellent communication skills, ensuring that you understand your obligations and the steps they're taking to minimize your tax liabilities.
7.  Ongoing Support
Partner with a consultancy that offers ongoing support throughout the year, not just during the tax filing season. This ensures that you receive timely advice and guidance on tax matters as they arise, helping you stay ahead of the game.
8.  Professional Credentials
Ensure that the tax consultancy firm you choose has the necessary professional credentials, such as being a member of a recognized accounting or tax body. This demonstrates their commitment to maintaining high professional standards and staying updated on the latest tax laws and regulations.
9.  Comprehensive Advisory Services
A leading tax consultancy firm in Dubai should offer comprehensive advisory services to help your business navigate the complex and ever-changing tax landscape. These services may include:
Tax Planning
A top tax consultancy firm will analyze your business's financial position and provide strategic tax planning advice to minimize liabilities and maximize savings.
Tax Law Updates
The firm should keep you informed of any changes in local or international tax laws that could impact your business, ensuring you stay compliant and avoid potential penalties.
Tax Audit Assistance
In the event of a tax audit, the consultancy firm should provide support and guidance throughout the process, helping you prepare the necessary documentation and addressing any concerns raised by tax authorities.
Cross-border Tax Solutions
If your business operates in multiple jurisdictions, the tax consultancy firm should offer expert advice on cross-border tax issues, such as double taxation agreements and international tax treaties.
Mergers and Acquisitions
The firm should provide tax advice on mergers, acquisitions, and other corporate restructuring activities, ensuring you make informed decisions and optimize your tax position.
Transfer Pricing
Expert advisory services should also cover transfer pricing issues, helping you establish appropriate pricing policies and maintain compliance with relevant regulations.
Through such comprehensive advisory services, a top tax consultancy firm in Dubai like Horizon Biz Consultancy can help your business proactively manage tax obligations and capitalize on tax-saving opportunities.
Want end-to-end expert tax consultancy services in Dubai, get in touch with experts at Horizon Biz Consultancy, Dubai at +971 50 841 3395.