Your Go-to Account Outsourcing Checklist for Startup Businesses in Dubai 2023
Starting a new business is both exciting and challenging. While managing everything on your own in the beginning might seem cost-effective, not having professional accounting and bookkeeping services in UAE or a reliable checklist could lead to financial losses.
Paying too little attention to your finances could cause your startup to struggle to compete, fail to take off, or even break UAE accounting laws. To make sure you cover all your financial bases when launching your business, follow an accounting outsourcing checklist.
Your business's financial health is vital for its success and longevity, but focusing too much on it might take your attention away from other important tasks like creating, positioning, and promoting your business.
Neglecting startup accounting essentials in Dubai might result in poor cash flow management.
Before outsourcing, make sure to find a firm that aligns with your goals and meets your criteria. Look for a company that provides high-quality and efficient services, and consider other crucial factors we'll discuss below.
1.  Registering Your Business
Registering your company is essential for legal recognition and establishing your presence in the UAE market. The registration process involves determining your business's legal structure and abiding by relevant regulations.
Here's a really short walkthrough of how you can register a business in the UAE.
It is important to onboard expert business registration consultants in Dubai to help you guide through how to register your business in UAE.
2. Financial Management Essentials
It is crucial to consider the expenses involved in setting up a business and potential partnerships with other companies. You need to have the clarity to estimate clearly the cost of registering, operating and managing your business on a day-to-day basis for at least a couple quarters, if not more.
Establish a separate business bank account and credit card to avoid mixing personal and corporate finances. This prevents disorganised bookkeeping, cash flow issues, and increased accounting costs.
For more strategies, you can seek expert counsel to guide you through going about corporate tax fundamentals for UAE.
3. Understanding Bookkeeping Basics
Familiarize yourself with bookkeeping essentials or outsource these tasks.
Key aspects include
Cash journals
Accounts payable and receivable
Inventory management
Journal entries
Sales and purchases
Loans payable record and
Payroll management
Maintain financial records, establish a bookkeeping system, track expenses, and calculate gross margins to ensure long-term success.
4. Hiring an Accounting Firm or an Outsourced CFO Service Provider
Employ an experienced, well-reviewed reliable tax advisor to provide valuable guidance on business policies and avoid potential losses.
Corporate Tax advisors like those at Horizon Biz Consultancy have in-depth knowledge of the advantages and disadvantages of various strategies, ensuring informed decision-making.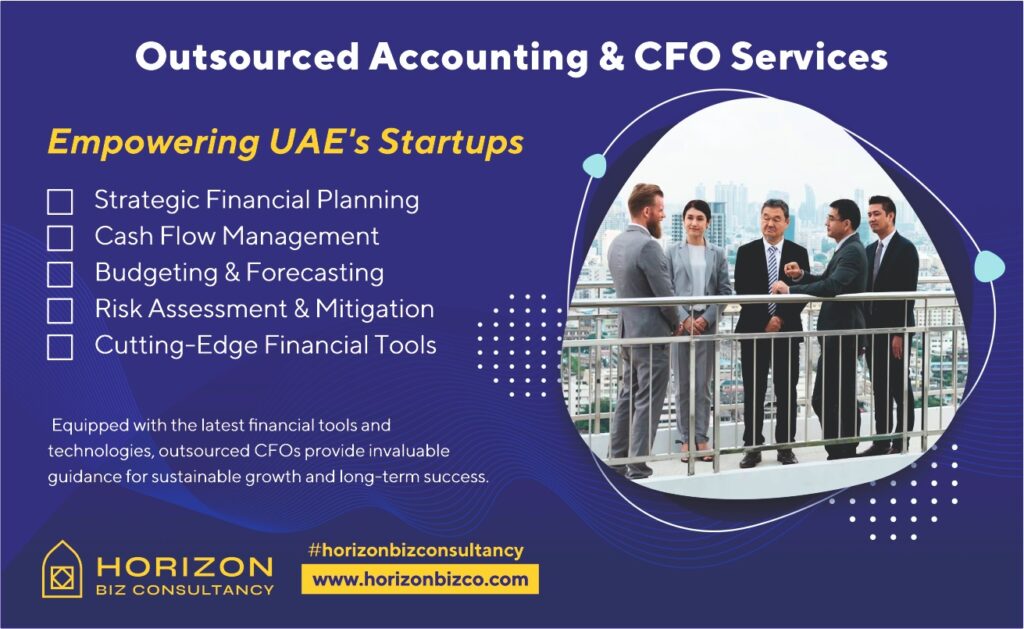 In fact, you can get started with just a free consultation by filling in the form right here.
5. Implementing a Scalable Accounting System
Establish a bookkeeping system from the outset and consider cloud-based accounting software like QuickBooks Online, Xero or if your business activity demands greater visibility and precision, onboard an ERP system for small medium businesses.
In addition, outsourcing your bookkeeping to a consulting CFO too  can save time and resources when financial management becomes complex.
6. Tracking Expenses and Payroll Management
Monitor out-of-pocket expenses and ensure accurate, timely employee payments while adhering to employment standards and laws. Outsourcing payroll to a third-party company like Enkel can help avoid complications, fines, and penalties.
7. Business Licensing, Insurance, and Record-Keeping
Determine the necessary licenses and permits for your business based on location, industry, and type. Maintain financial records, accounting, and bookkeeping documents for six years. Secure appropriate insurance coverage, such as liability, property, disability, and business interruption policies.
In our fast-paced UAE startup ecosystem, securing the right business insurance is vital to protect our venture against unexpected events. At Horizon, we recognize the diverse insurance products available in the UAE, tailored to meet the specific needs of both startups and established businesses.
Given the unpredictable business landscape, it's crucial for us to assess and invest in appropriate insurance policies to safeguard our company's assets, operations, and workforce. Some common insurance coverages that could prove useful for startups in the UAE include:
Liability Insurance
This type of insurance protects businesses from legal liabilities arising from third-party claims, such as bodily injuries, property damage, or advertising injuries. General liability insurance is vital for startups, as it covers a broad range of potential risks.
Property Insurance
Property insurance safeguards your business's physical assets, including buildings, equipment, and inventory, against damages resulting from events like fire, theft, or natural disasters. This coverage is essential for startups with significant investments in property and equipment.
Disability Insurance
In the UAE, it's important to have disability insurance in place to protect employees in case they suffer from illnesses or injuries that prevent them from working. This type of coverage ensures financial stability for affected employees and helps maintain workforce morale.
Financial Insurance
Financial insurance policies cover various financial risks, such as credit risk, currency risk, or investment loss. Startups in the UAE may benefit from such coverage, especially when operating in volatile markets or dealing with international transactions.
Business Interruption Insurance
Business interruption insurance compensates for lost income and additional expenses incurred due to disruptions in business operations caused by unforeseen events like natural disasters or equipment breakdowns. This coverage is critical for startups, as it helps maintain cash flow and operational stability during challenging times.
Get in touch with company setup experts UAE at Horizon Biz Consultancy, Dubai for a special consultation for startups for accounting outsourcing needs.